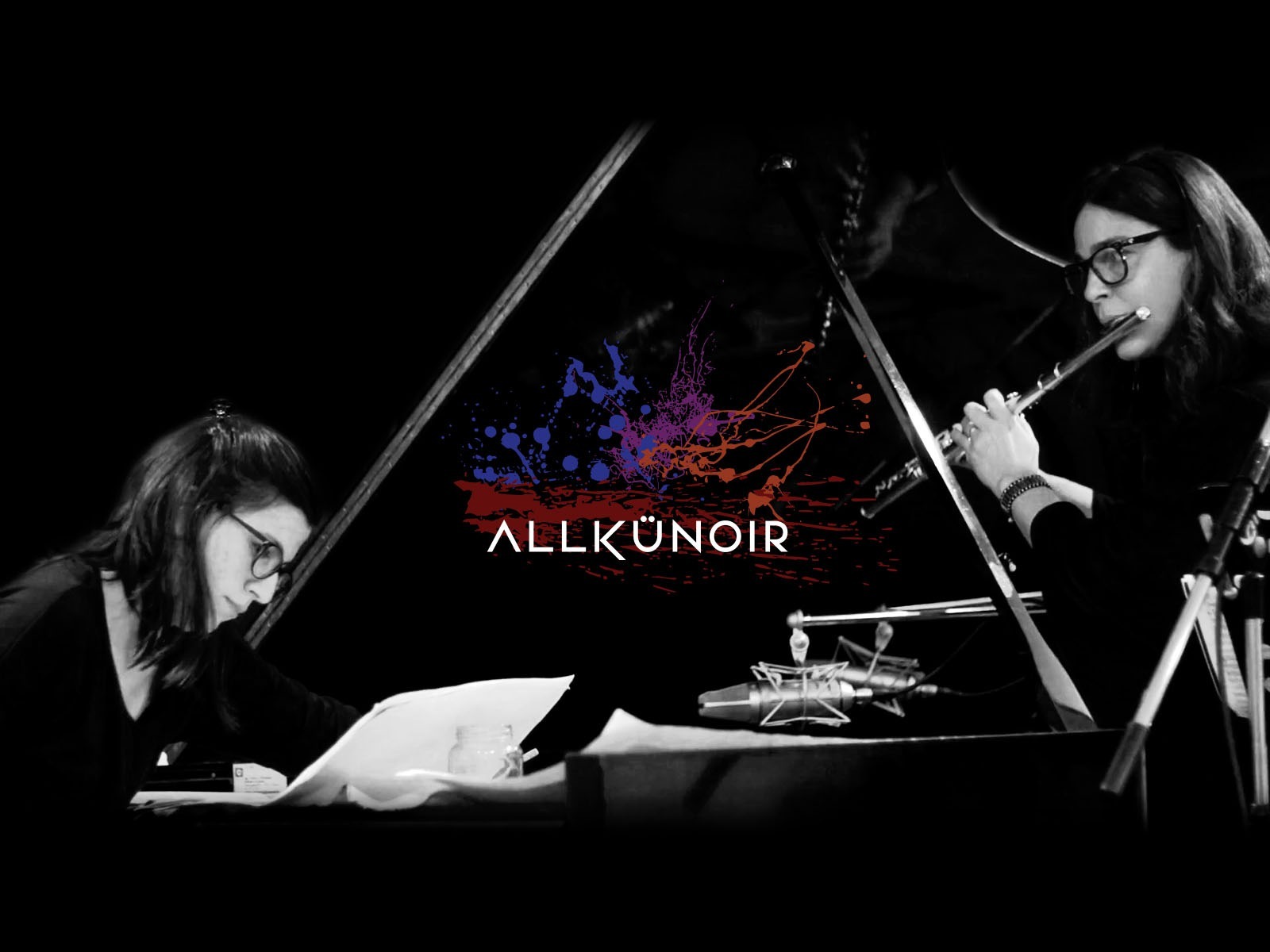 Allkünoir duo : the attentive listening
The Argentina based duo made by the pianist Daniela Campisi and the flutist Andrea Escobar tell us more about "Allkünoir". More than a simple musical ensemble, a real politic and cultural meaning!
How did you meet each other and when did you decide to form a duo?
Andrea: We met at a concert that Daniela was organizing, and in which I played a piece by Jorge Sad. We both have very similar interests regarding contemporary music. Everything was given for us to engage in a project that would bring together the view that we both have on music and the role of interpretation in contemporary languages. That was how we started to convene Argentinian composers to prepare pieces for the duo. From the beginning, we focused on working along with the composers.
Can you tell us about each of your background?
We both live in Buenos Aires province, and we study in the Alberto Ginastera Conservatory, located in the town of Moron.
Andrea: In my case, my training is basically classic, although I have always been working in popular music projects, mainly in tango. Since I was a teenager, I have established this connection with new music by premiering pieces from different groups of Argentinian composers, and I have not stopped until now. It is impossible for me to conceive music without the perspective of what happens in the contemporary times. Luckily, I had my Moron Conservatory teacher (Raul Del Castillo), who, from the beginning, trained me in contemporary language. I could say that all music influences me. Rock, Jazz and Bach too.
Daniela: My training is classic. As a pianist, my influences have been very varied. My first piano teacher, Sandra Federici, was a great model, along with Teresa Criscuolo, who trained several generations of exceptional pianists in Argentina. I think my tastes and influences from an aesthetic point of view are quite eclectic. Classical composers such as Brahms, Debussy, Messiaen, with whom I began to understand more and more about the matter of gesture as a total generator of meaning, have been and are a ground from which to observe everything else. But I also enjoy a lot of Argentinian folklore, rock, indie pop, and popular music in general. I have been working with mixed academic music for piano for several years, and I think that that gender often touches the limit between popular and academic, and I find it very interesting, because it is there where many musical languages converge simultaneously.
What is the meaning of "Allkünoir"?
The choice of the name "Allkünoir", which in Mapuche language means "attentive listening", defines the meaning of this encounter, not only from a sound perspective. We share that search as a duo, to listen to the interior of our culture's expressions. It is a way to give value to the Argentinian and Latin American music. By the time the duo was formed, during the government of Mauricio Macri, our country was going through a distressing situation because of the search of a young man, who had disappeared while he was protesting together with the Mapuche community. We were moved by that, and we think that the music has a lot to say about those matters. The name arose to express what the duo expects from the music itself (that the music could be built with the listening itself) and, in a way, to convey the commitment between music and social issues, which is also a way to think about the aesthetics.
How would you define your duo in an artistic way?
We believe that the duo is kind of an "explosive" encounter, with a very strong mark from the field of gestures, because that is what happens when we work with the pieces. We both think that what defines Allkunoir is the work of the sound, thinking it from the uniqueness of the instruments, along with the electronics. We find the result interesting, because it relates to recreating the ways of saying music from the gesture. Each of us has a way of working that complements very well with the other when it comes to define results.
How does Argentinian culture and history influence you and your art?
What happens in the cultural and social level influences a lot in what we do, hence our name. We also think a lot about the places where our music circulates: Many times, those are very enriching spaces, and they are not always where most of the resources to make it happen are. That is why we believe that performing music also means to transform it, and to transform the spaces to generate new listening levels.
We are also interested in approaching that transformation from an academic level. If educational spaces open their doors to musical diversity, more auspicious areas for the new expressions and their projection will emerge.

We cannot ignore the fact that, as artists, we know that sociocultural and political aspects have a full impact in our musical work. That is why we believe it is important for the musicians to understand that relationship, to have a more dynamic role from our work.
Do you have a musical mentor?
We have both transited for contemporary music since we were very young. Our paths crossed with Jorge Sad music, who is, without a doubt, a mentor for us and for several generations of the Alberto Ginastera Conservatory's composition students.