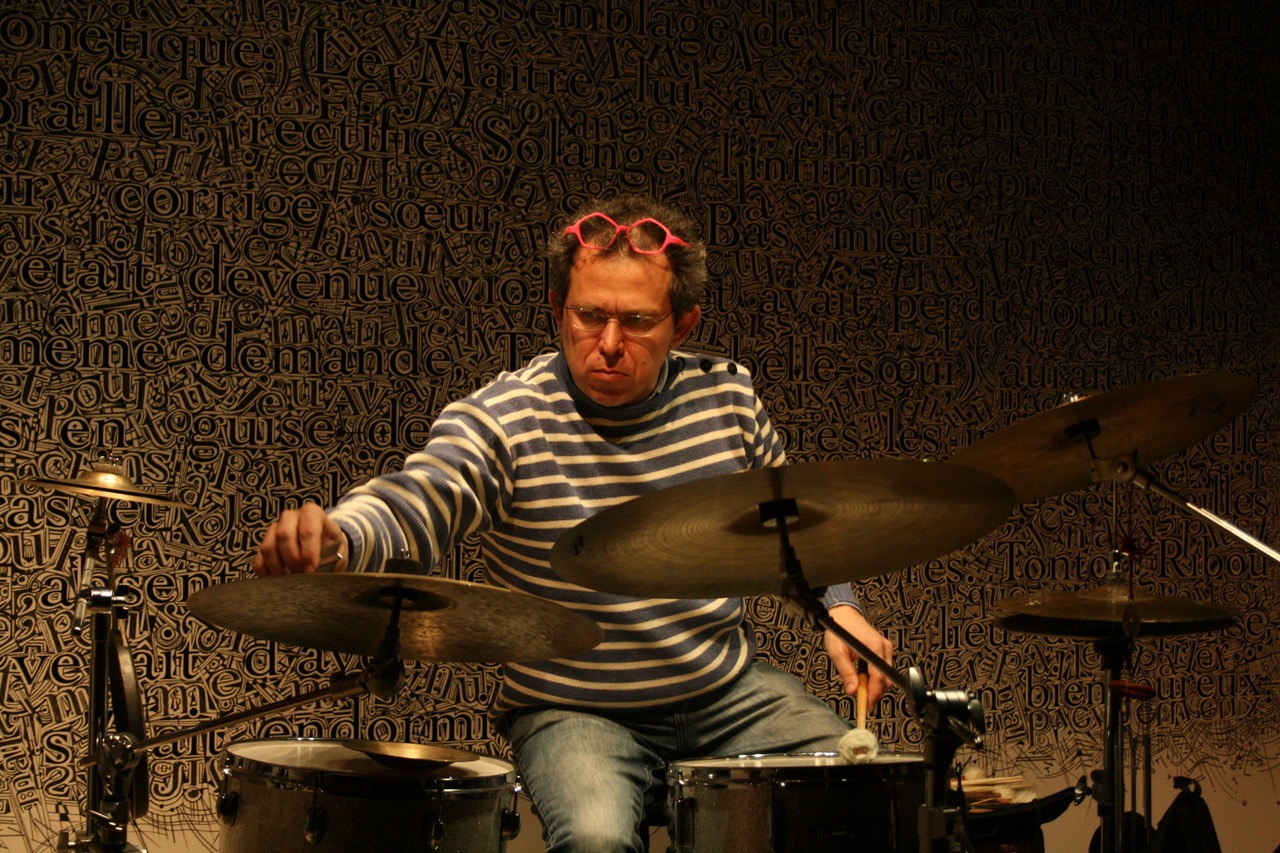 Learn more about… zBlug
Dom Dubois Taine and Tiri Carreras form zBlug, a duo of improvised music mixing electronic and acoustic percussions. In their new album "Lichens", each piece explores a new synthesis of their alchemy to propose a singular universe. Discover the album here !
What are your individual backgrounds ?
Dom Dubois Taine : I started, like many children, by studying classical piano. Then the first experiences of music bands as a teenager, the openness to jazz and pop music, and to other instruments (fender Rhodes and synthesizers). At the same time, I started to study fine arts, then I got interested in more contemporary territories, at first to the "contemporary" music of the XXth century (I did some training courses at the IRCAM), then to the unwritten experimental music and free improvisation. Today, I consider my musical practice essentially as a corporal practice, centered on improvisation, energy and sound material, including in its electronic aspect, where the sounds as well as the interface that I have created are totally oriented towards real time performance.
Tiri Carreras : I started playing drums when I was a teenager. I immediately played in a band while taking private lessons and classes at the music conservatory. After playing rock music, I turned to jazz. For the past fifteen years, I have focused primarily on free improvisation. As time goes by, my work is more and more oriented towards the research of new colors. Without abandoning my instrumental practice, I experiment with new tools to expand my sound colors and develop new ways of playing.
How did you two meet ?
We met during a jam session of improvised music organized at the Fabricason of Malakoff (near Paris) by the double bass player Benjamin Duboc in 2007.
The taste for improvisation and the pleasure of experimenting with sound brought us together. The musical and human complicity was revealed immediately. We first practiced a lot as a piano-drums duo (bBlunk), then founded the XoNdZf collective, gathering around us various instrumentalists : Vee Reduron on electric guitar, Jean Bordé or Benjamin Duboc on double bass, Sylvain Guerineau, Pascal Van Den Heuvel or Jean Luc Petit on saxophones (…), creating new bands (zVeep, eRratz, bBrrAx…) driven by the same philosophy.
We had many opportunities to perform live (mainly on Parisian stages), and released several records (zVeep on the Petit Label and on FMA, zBlug on " suRRism Phonethics ", bBlunk on " Insubordination ", "Freeture" by bBrrAx, "Élan vital" by Tiri Carreras in solo on the Petit Label). Our working method has always remained the same : regular sessions of improvisation without directives, systematically recorded. We listen carefully to each other, then share our analysis and comments in order to feed the following sessions and refine our music.
How was this duo and this project born ?
Beyond the piano-drums duo which was the basis of our meeting, quite classical, our respective researches around the development of new sounds and playing modes naturally led us to experiment a new formula : Tiri with an original set reduced to the horizontal bass drum, cymbals and multiple objects and Dom with the keyboard, pedals and potentiometers, piloting a palette of synthesized sounds of his own making.
Although totally acoustic for one and electronic for the other, these new sound universes combine perfectly, and we have not stopped exploring this new duet for almost 15 years.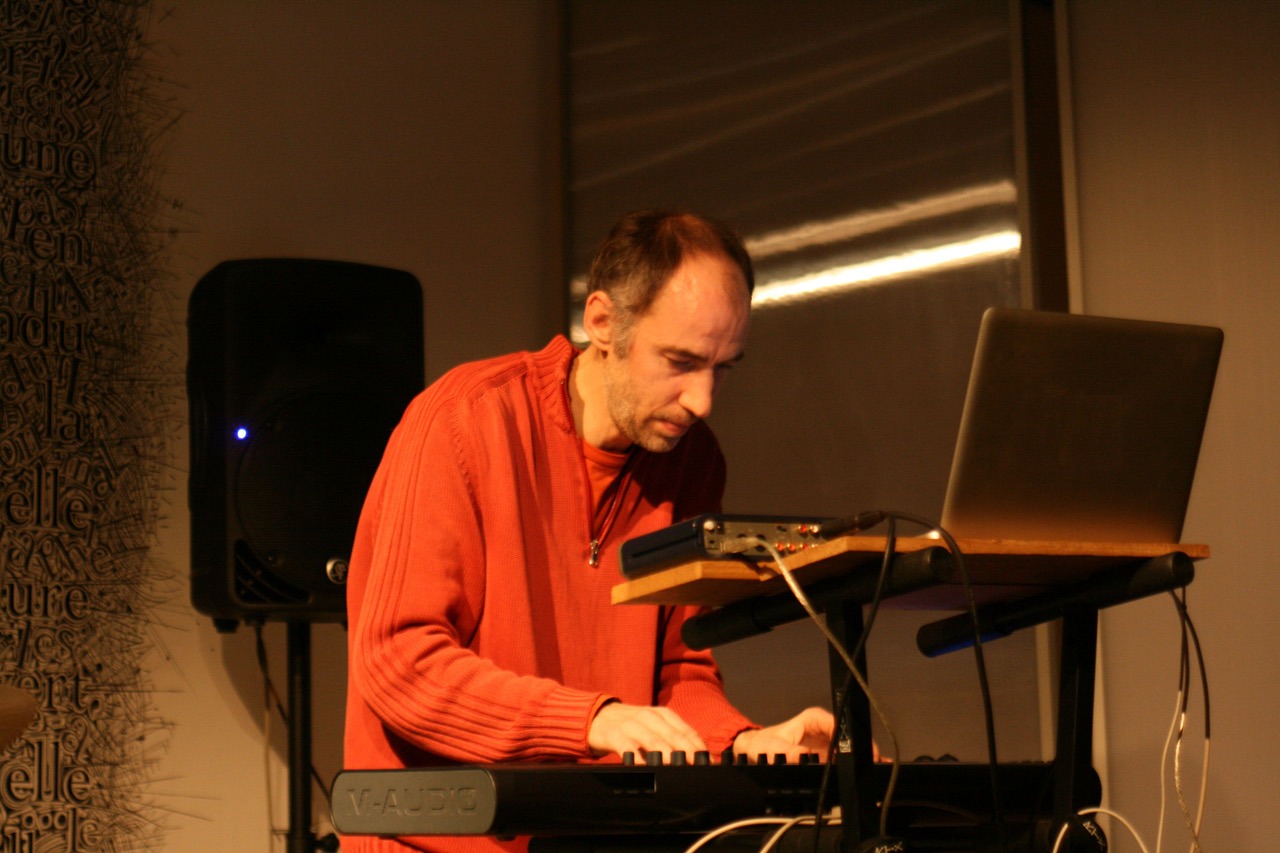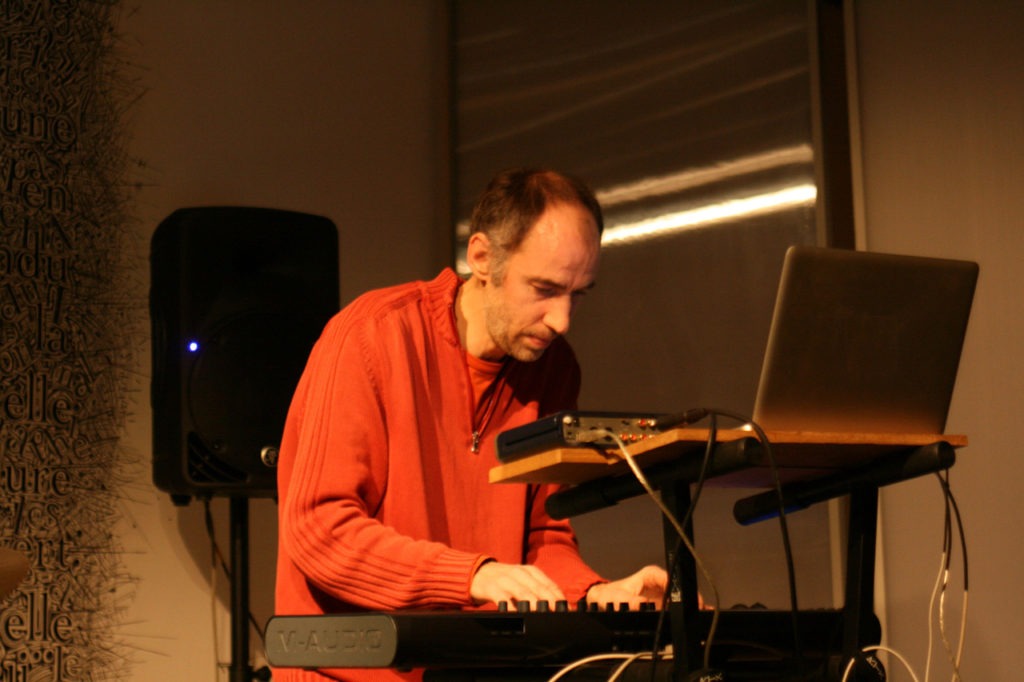 Can you present us your new album "Lichens" ?
Since our first meeting in 2007, and the multiple trios or quartets that followed, this album is a return to the founding duet, nourished by the experience thus acquired.
After working apart during the pandemic, where each of us worked to refine his set by developing the solo and the search for new sounds but also by improvising on the recordings of his partner, we had the pleasure to meet again in flesh and blood for an improvisation session on July 31, 2021.
Long weeks of listening and discussions followed to choose the pieces and determine their order, in order to vary the materials and the sound forms as well as the durations, trying to offer a large palette of ambiances and to compose a real story.
What are your future projects ?
Following the zBlug album, we did a big recording session of our acoustic Piano Drum duo (bBlunk). We are currently working on an album based on this material. After these two albums we naturally wish to continue the musical research and also to perform live, our music being above all dedicated to be played and invented in front of an audience.
Tiri Carreras : I plan to record everyday sounds, especially in the kitchen where I spend a lot of time. All these sounds inspire me and offer a nice palette to compose with my percussion tools.
Dom Dubois Taine : I have a film project about dishes too : a time-lapse edit of a series of photos of drainers that I took after washing dishes for months. I'll probably ask Tiri to do the soundtrack.
What do you think about the way people listen to music nowadays ?
Dom Dubois Taine : I'm not so much attached to the physical support (CD, vinyl, …) : today the access to dematerialized music seems great to me. But shared audio files are often of very low quality, and the listening systems of most listeners are often quite bad. After the cult of Hi-fi in the 70's and 80's, this degradation of listening has naturally been accompanied by adapted consumer productions, more and more compressed. All this is antinomic to a rich music where the precision of the sound and its dynamics are essential. Fortunately, the experience of live music remains. I am lucky enough to live near Paris, specifically in Montreuil, where the live music offer is particularly rich, including in its most contemporary and experimental components.
Tiri Carreras : I believe that all the possibilities are good to listen to music! For my part, I listen as much as possible on my hi-fi system (CD, Radio and TV) but I also use the computer a lot for its practicality. And of course, the best way to listen is live. That's why we are actively looking for places to play our music !
Discover zBlug's work here !