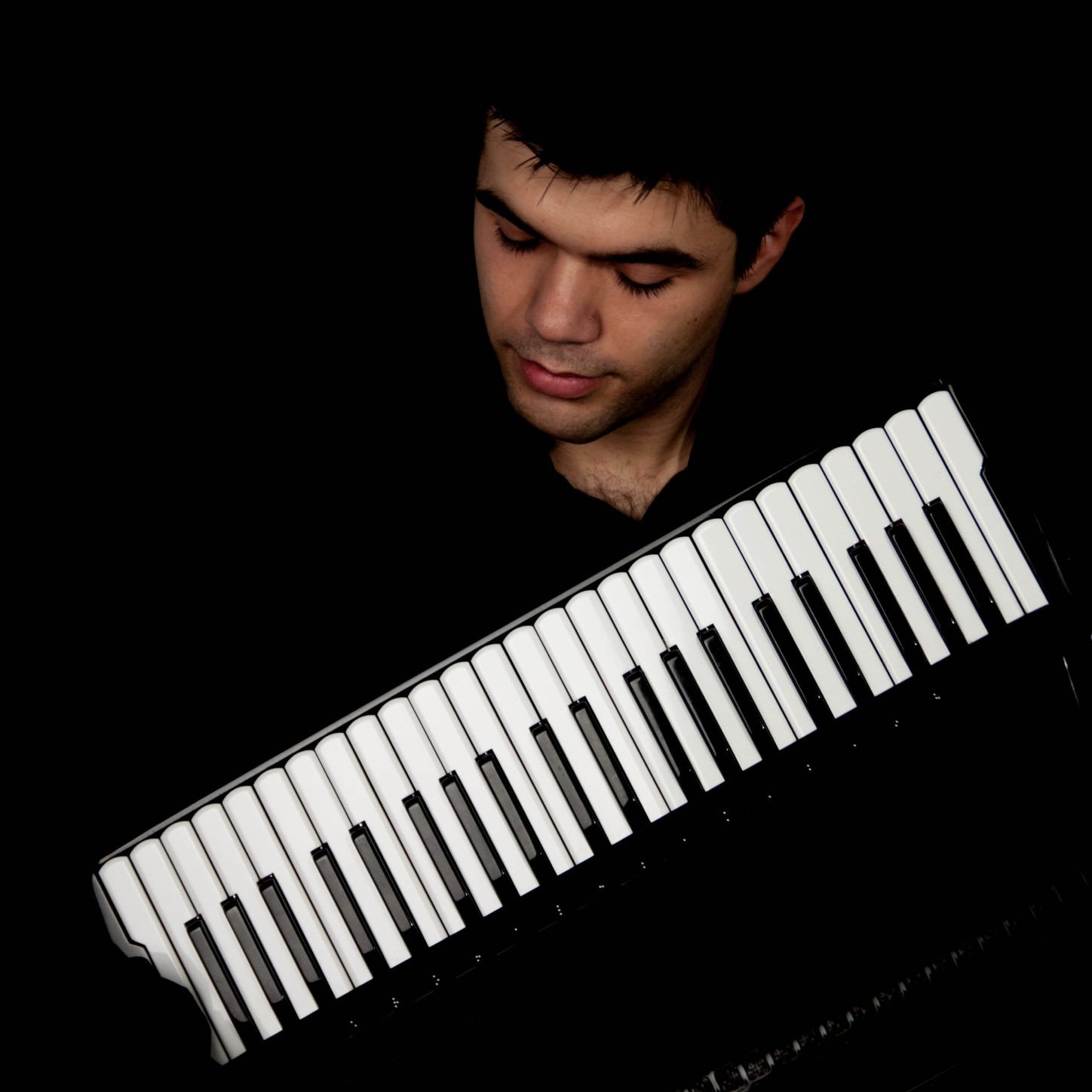 Ghenadie Rotari : the accordion in the contemporary music
Ghenadie Rotari is one of our label artist and plays accordion. He accepted to answer to our questions about his art and his instrument…
When did you start playing accordion and what attracted you to this music instrument?
I started playing the accordion when I was 9 years old. In a certain way, fate chose the instrument for me. Initially I was supposed to start learning to play the piano, but since the music school's piano class was full, I picked up the only instrument available – the accordion. At the time I didn't see the accordion as an instrument full of concert potential, also because in the Republic of Moldova (where I was born and raised) it is used primarily for traditional music which, somehow, didn't attract me that much. Only after listening to a two-hour "Piazzolla Forever" concert of the French accordionist Richard Galliano and his septet in Finland did the accordion get under my skin and I decided I wanted to pursue a musical career.
How did you discover contemporary music universe? Was it an evidence or was it a path towards this music style?
Contemporary music came along during my studies at the Conservatory of Trieste in Italy. Before that I wanted to become a jazz and tango musician, just like Galliano who inspired me so much. My professor at the time, Corrado Rojac (whose "La costellazione del soffione I" appears on the album "Elegia"), has done a great deal of work to guide me towards understanding, appreciating and, moreover, loving contemporary music. He challenged me to approach the milestones of the accordion repertoire, like Berio's "Sequenza XIII: Chanson" and Lindberg's "Jeux d'anches", with an open mind and welcoming ears. From that point on my future studies and projects regarding contemporary music were a natural consequence of the work done in my Trieste years.
Do you have an accordionist musician mentor or role model?
There are many accordionists who have influenced me as a musician in one way or another. Mainly my two professors, Corrado Rojac and Krassimir Sterev. I graduated under Krassimir Sterev's guidance with a Master's degree in New Music from the Hochschule für Musik und Theater in Munich. He is also the accordionist of Klangforum Wien and a guest musician of numerous ensembles and orchestras.
Are there a lot of accordionists in contemporary music? Can you explain us the accordion's place in contemporary music?
Perhaps not many people know that the first accordion was invented in Vienna in 1829 and was a very small box with only 6 buttons. The modern instrument we see today dates back only to 1950's, so it is a young and modern instrument. The original repertoire starts around the 1960's with the first works searching for the true voice of the accordion and not just imitating other instruments. Per Norgard's "Anatomic Safari" is largely considered to be the first avantgarde piece written for accordion by a renown contemporary music composer. The second one is "De Profundis" by Sofia Gubaidulina from 1967. So, the instrument's place in the context of 20th and 21st century music is quite evident.
Over the past 10 years the number of accordionists who play contemporary music has risen considerably. It is not music which only few "fanatics" would play, but an integral part of an accordionist's repertoire and education. Some of the works which might have been considered "super difficult" in 2010 are performed regularly in concerts and competitions even by students.
Furthermore, the composers became more and more interested in the instrument and the number of works written not only for the accordion, but also including the accordion in chamber music groups, ensembles and orchestras has grown to such extent that it became normal to see and hear an accordion on stage in the biggest festivals and venues.
Do you think that accordion is seen as "a popular and oldschool instrument" like the instrument of French popular song in the "bal musette" or has it a new reputation?
Among musicians the accordion has definitely acquired a new reputation for itself. Among a larger audience it is still very often seen as traditional or folk music instrument. It is always fun to see the reaction of an audience who came to a concert with a certain idea about the accordion and either leave with a surprised look on their faces or come up and say "I didn't know the accordion could do that or be played in that way!" I think that the accordion will not be able to entirely get away from the "popular" vision that the people have of it. In the end, this is how the instrument came to be in the 19th century and this is how many got to know it even today. Nowadays the ideas of a "popular" and "modern" can co-exist with one excluding the other. The two generations of accordionists before mine have done a great job at propelling the accordion right into the spotlight of contemporary music and concert making in general. By doing so, what kind of music one performs became a question of choice.
Who are the main figures who influenced and inspired you?
Certainly, my two mentors, Corrado Rojac and Krassimir Sterev, had a great impact on me as a musician and an accordionist. They continue to inspire me even today. In terms of music taste, I could name some of the composers who I think influenced me the most in the recent years: Rebecca Saunders, Magnus Lindberg, Alberto Posadas, Bent Sorensen, Mark Andre, Gerard Grisey, among others.