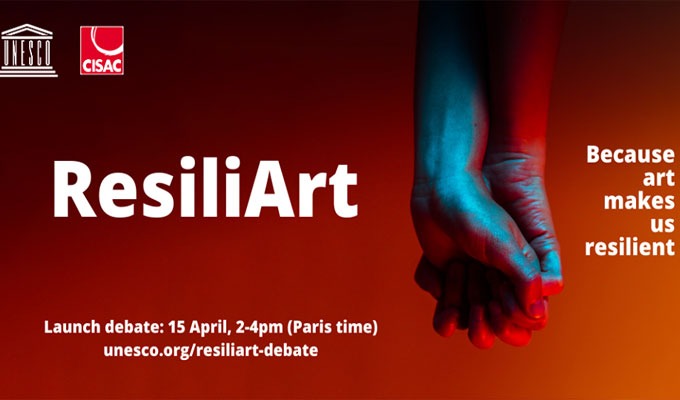 UNESCO RESILIART DEBATE ARTISTS AND CREATIVITY BEYOND CRISIS
We need a concerted and global effort to support artists and ensure access to culture for all.
The health crisis brought on by the novel coronavirus has plunged the global economy into a recession, costing the global economy US $1 trillion during 2020 (UNCTAD). While billions of people around the world turn to culture as a source of comfort and connection, the impact of COVID-19 has not spared the culture sector. More than 80% of UNESCO World Heritage properties have closed down, threatening the livelihoods of the local communities and cultural professionals. Cultural institutions and facilities including museums, theatres and cinemas are losing millions in revenue each day, and many have had to let go of their staff. Artists across the world, most of whom were already working part-time, on an informal basis or under precarious contracts prior to the pandemic, are struggling to make ends meet. Today, we are experiencing a cultural emergency.
UNESCO is launching a global movement – ResiliArt.
ResiliArt sheds light on the current state of creative industries amidst crisis through an exclusive global discussion with key industry professionals while capturing experiences and voices of resilience from artists – both established and emerging – on social media. Together, it raises awareness about the far-reaching ramification of COVID-19 across the sector and aims at supporting artists during and following the crisis.
The inaugural debate took place on 15 April 2020, World Art Day, in partnership with CISAC. It was opened by Audrey AZOULAY, UNESCO Director-General, who launched the ResiliArt discussions with Ernesto OTTONE R. (UNESCO Assistant Director-General for Culture), Jean Michel JARRE (Composer, performer, CISAC President and UNESCO Goodwill Ambassador), Yasmina KHADRA (Author), Deeyah KHAN (Musician, documentary film director and UNESCO Goodwill Ambassador), Angélique KIDJO (Singer-songwriter, CISAC Vice-President and UNICEF International Ambassador), Nina OBULJEN-KORŽINEK (Minister of Culture of Croatia and violinist) and Luis PUENZO (Film director, screenwriter, producer and President of INCAA).
Cultural industry professionals are encouraged to join the movement and replicate the ResiliArt series in their respective regions and thematic focus by following publicly available guidelines. The devastation brought to the entire culture value chain will have a long-lasting impact on the creative economy; ResiliArt aims to ensure the continuity of conversations, data sharing, and advocacy efforts long after the pandemic subsides.

UNESCO website
People need culture.
Culture makes us resilient and gives us hope.
It reminds us that we are not alone.