Unkodifizierte Gefahr – Uncoded Danger – Peligro no codificado
Music for Clarinet, Bass Clarinet and Electronics
The musical work that is an ideal of Diego Montes' life led him to produce these recordings for clarinet, bass clarinet and electronics.
Sound, shaped by composition, the realization of a musical work: the exchange of ideas, their realization and the conversations about interpretation shaped the works that were created in 2020 and early 2021.
Diego Montes thanks the composers for their wonderful music.
"Uncoded Danger" is a compilation of pieces that originated not only out of a composer's desk but also an intense discussion between both composer and artist.
Every piece enjoys its own and specific language developed through a conscientious  process of seeking, trying and discussing. This approach is the one that I appreciate the most in my life as a musician.
The close work with the composer during the creative process, the talks about the musical discourse on possible effects, those back and forth of ideas, are the greatest ideals in my work as a musician.
Thus, this registration has been made.
Thanks to all of them for this enriching work.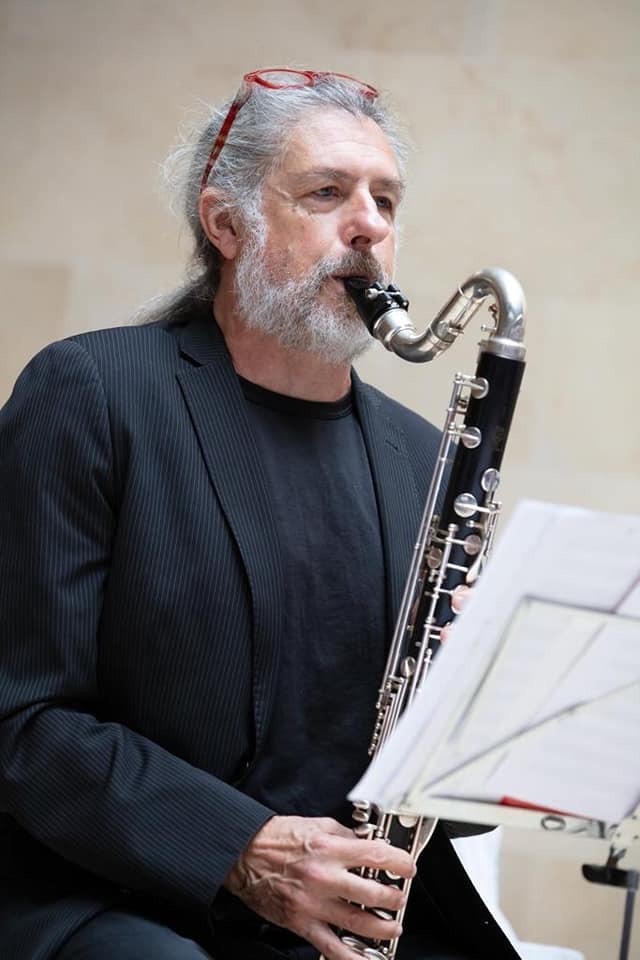 Diego Aníbal Montes was born in 1958 in Córdoba (Argentina). Firstly, in 1984, he graduated at the Conservatorio de Música in Córdoba where he was awarded the diploma as a clarinet teacher. Afterwards, he settled down in Cologne (Germany) in order to complete his career at the Folkwang Universität der Künste in Essen (Germany), eventually obtaining his diploma as soloist in his instrument.
Diego Montes studied composition with César Franchisena in Córdoba (Argentina), conducting with Guy van Waas in Brussels and singing with Dirk Schärfeld in Germany. This Argentinian musician is considered as an outstanding clarinetist distributing his time between both the practice of the so-called original instruments and the New Music. In fact, he was the first clarinetist soloist of the Symphonic Band in the Province of Córdoba until 1984. In his time in Cologne, Diego Montes was a member and main Clarinetist of Concerto Köln from 1988 to 2007. As a result of his professional activity during that period and up to present enjoying over 70 recorded CD's, he engaged as lead clarinet and soloist in renowned orchestras such as: Les Arts Florissants, Les Musiciens du Louvre, Orchestre des Champs-Elysées, Concert des Nations, Akamus Berlin, Cappella Coloniensis, Musica Antiqua Köln. Also, he has played under the baton of remarkable masters such as Reinhard Goebel, Andreas Spering, Bruno Weil, Jordi Savall, Philippe Herreweghe among others.
As far as New Music field is concerned, Diego Montes is a founding member of the WNC ensemble. In 1998, he founded the Ensemble Artaria Consort, in which he combines both ancient and modern music, traditional music with original instruments and New Music with modern instruments. From 1992 to present, he has also been a member of the Thürmchen Ensemble für Moderne Musik. Along with these ensembles, Diego Montes has performed numerous concert performances and has reached more than 20 recorded CD's. Particularly, in 1997, he was regarded as an outstanding interpreter of both musical activities in the encyclopedia "Art and Culture in Cologne (Germany) since 1945".
From 2002 to 2007 he has been a teacher of historical clarinet and bass clarinet at the Hochschule für Musik und Darstellende Kunst Frankfurt (Main) and modern clarinet at the Rheinische Musikschule Köln. His personal project as a teacher is based on leading his students towards not only composition but also improvisation. He has therefore worked from 2007 to 2014 at the Internationale Friedensschule in Cologne, and in 2011 he founded his own Music school named Kölner Musikschule which he has run as a director so far. As of 2014 Diego Montes is living between Spain and Germany where he continues his international career.
      1. "Numberdrama" (2021) (Jorge Sad Levi, Argentina)
for clarinet & electroacoustic support.
Numberdrama was composed in collaboration and dedicated to Diego Montes
The work is inspired by a numerical / rhythmic series that is progressively subject to variation and transformation
until being completely blurred. The starting point is a polyrhythm the end point is a quasi improvised piece named
Ladrones de almas ( Soul thiefs).
As the process progresses, the degree of expressiveness becomes more and more important.
Numberdrama alludes as a title to an assertion by the thinker Henri Léfèvre who holds precisely that music
it is like a coin in which one side is the number and the other is the drama.
Jorge Sad Levi
Jorge Sad. Buenos Aires, 1959. Composer/Improviser/Researcher. His music has been played in festivals and concerts in South and North America, Asia and Europe. A significant part of his work was produced working with improvisers and live electronics "Músicas de una etnia imaginaria" (2000), "Retransmisión" (2006) and "Amusia" (2017).
      2. "Estas líneas que te escribo" ("these lines that I write to you") (2020) (Gerardo Dirié, Australia)
for bass clarinet & pre recorded sounds. Dedicated to Diego Montes
During early 2019 while visiting Spain, I made a few recordings of maestro Montes as he shared his dramatic ideas about his imagined characters in Mozart's Clarinet Concerto. Later, back in Australia, as disruptions due to COVID 19 spread, I composed this work reflecting on artistic playfulness against a sonic backdrop evoking the cyclical collapses of universes and their rebirth -alluded in the Sanskrit reading from the Bhagavad gita performed by Dr Charulatha Mani.
Gerardo Dirié
Gerardo Dirié was born in Cordoba, Argentina. He studied at the National University of Cordoba under maestros Atilio Argüello, César Franchisena and Oscar Bazán. As a Fulbright fellow, he completed master and doctoral degrees at the Jacobs School of Music of Indiana University. In the 1990s he taught in the Music in General Studies program at Indiana University, and since 2003 at the Queensland Conservatorium Griffith University. He was appointed as Head of Composition in that institution in 2016. In 2012 he was a Finalist for the APRA-AMCOS award in Best Vocal/Choral Work for his suite Pomegranate Friends for mixed chamber choir and electronics. In 2017 he shared the ARIA Award Album in World Music with his work Tikata Tarpuinikichu recorded by winners Karin Schaupp and Katie Noonan. His electroacoustic, chamber, choir, orchestral and music for stage have been presented internationally. His music appears in Crystal Records, Melos, Indiana University, Eroica Classical Recordings, Doublemoon, Aqua, and MúsicaUNAM (Mexico).
     3. 1, 2, 3 "für Thomas" (2021) (Diego Montes, Germany)
for Clarinet & Electronic
My friend Thomas Stiegler composed a work for solo clarinet which he dedicated to me, "1,2,3" für solo Klarinette. I liked this piece so much that I decided to compose some variations for clarinet & electronics based on the same work. The work is divided into three sections where one of the clarinets ranges between predetermined structures and improvised short moments.
Thomas Stiegler
1966 born in Meschede (D)
1987-94 studied medicine in Cologne, Freiburg and Frankfurt
1991-94 studied composition in Freiburg with Immanuel Nunes and Matthias Spahlinger
since 1994 assistent doctor, since 2001 senior physician (internal medicine)
1997 1. prize at the International Composition Contest Boswil (CH)
     4. Wohl – te – retas (2020) (Ramón Gorigoitia, Germany)
for Bass Clarinet, Voice & Electronics
The work is based on a collage composed of fragments of poems from Erich Fried ("Nachhall") and Jack Keroauc ("Ghostroad") and juxtaposed in opposition to the concept of communication, which is the main theme of this composition. The reoccurring ghosts, that seem to follow each step and are present in each particle of time on the internet are responsible for the immense changes of humankind and its communicative style, which increase a toxic social distance in our 21. century.
Ramón Gorigoitia
Born 1958 in Valparaíso, Chile, Ramón Gorigoitia studied Music Pedagogy and Composition in Chile at the Catholic University in Valparaíso with Darwin Vargas, Hernán Ramirez and Alejandro Guarello. In 1983 he moved to Germany to study Composition and Jazz, first at Cologne Conservatory with Bojidar Dimov and Axel Jungbluth and then later at Cologne University where he extended his education with further studies in Musicology and Phonetic. Ramón Gorigoitia earned scholarships, prices and commissions from the Gaudeamus Foundation, Stiftung Kunst & Kultur NRW, SK Stiftung Kultur, Kulturamt Köln, Deutsche Welle, WDR, DLF, Ernst von Siemens Musikstiftung and others. In addition, he worked as a teacher at different universities and academies in Chile and Germany and participated in many collaboration with ensembles, choirs and soloists in Germany, Spain, Mexico, Argentina, Ukraine and Chile. Ramón Gorigoitia performed his own music at festivals and concerts for Contemporary Music in Europe, North & South America and Asia and toured the continents with the E-Mex Ensemble, Auditivvokal Dresden and Ensemble Iberoamericano with support by the Goethe Institut. He lives as freelance composer, conductor, pianist and publicist in Cologne, Germany.
     5. "Diego y los Espejos" (2009) (Gonzallo Biffarella, Argentina)
for bass clarinet & electro acoustic support.
This work is based on the series of works "The mirrors", which is made up of instruments and electroacoustic support. The electroacoustic part is made entirely with sounds previously recorded with the same instrument. My intention is that each instrumentist who addresses the work, makes an own version that dialogues with the recorded sounds. With the participation of the clarinetist Eduardo Spinelli in the realization of the electronic.
With the participation of Eduardo Spinelli, bass clarinet, in the realization of the electronic.
Gonzalo Biffarella
Gonzalo Biffarella is a musician, multimedia artist, university professor, cultural manager. He was born in 1961. He studied composition at the National University of Córdoba, Argentina.
Throughout his career he received numerous distinctions, in his country and abroad. His works have been presented in 30 countries. He has made commissioned works for some of the main electroacoustic production centers, among them: the IMEB (International Institute of Electroacoustic Music of Bourges – France), the WDR 3 radio station in Cologne Germany, for the Acoustic Art Studio directed by Klaus Schoening, the CSC of the University of Padova -Italia and the LIPM of the Recoleta Center of Buenos Aires – Argentina, the Zeppelin Festival of Barcelona and the Reina Sofía Center of Madrid.