2. The Pain Threshold
A computer music piece, with sonic elements generated in Csound. Inspired by the definition of 'the Pain Threshold' in auditory science, this piece endeavors to model computer-generated human voice how the transformation of such experience do present perceived psychoacoustic Extremity. The pain threshold is a measurable upper limit of auditory endurance, but the subjective experience of auditory pleasure of all kinds is limitless.
Three groups of sound were generated from Csound programs.
The first group is a ring modulated noise with panning, lasting through the on-going structure of the piece.
The second group of sound is built based on Iain McCurdy 's FoF Vowel Voice synthesis instrument, with parameters adjusted, to generate a short hum of "Ay-Yo", and a squawk of "Uoiii-Yo!", modeling a group of woman and man in pain.
The third group of sound is combined by three granular-synthesis instruments, created bouncing, beady and glitching flow – the ebb and flow within the structure. The piece's length is 10:09 min and is divided into four part:
Part 1: 0: 00 – 3: 05 The Pain Starts
Part 2: 3: 06 – 5: 41 The Pain Goes On
Part 3: 5: 41 – 7: 00 The Pain Everywhere
Part 4: 7: 01 – 10:09 Enjoying the Pain
3. Aphasia – Don't Speak
First Variation of Real-Time Generated Computer Music work: Aphasia.
Aphasia is made for real-time generated sound by GENDY, frequency modulator, impulse generator, dynamic oscillator bank in SuperCollider and improvised Guzheng, Jaw Harp and Voice. The piece explores, how pure physical movements of in-determinant manner evoke sonic events and changes, perceived pitch is fully disenchanted. Sounds change differently everytime performers change their position on a 2-dimensional control board. What triggers sonic events is no longer the default concept of "progress" in a planned composition, but "the MOVE" on-the-fly. Every sonic instance is triggered by the pure physical movement of the player with controller "at the moment". The controllers should either be virtual square surfaces where values are mapped or physical control boards to be manipulated by hands.
In this version of code, the "control board" is assumed to be a MacBook Mouse Touchbar, and what the player can "move" are only fingers, with value possible for mapping restricted to 2- dimensions. Further extensions of the "control" and "mapping" can be sensor-based new musical interfaces built by Wekinator/Kinect or can be triggered by human physical interaction in a virtual sonic space, parameters can be extended to n-dimensions.
 I want to find a sound that best describe the fear and sense of 'Aphasia' confronting inner isolation and external danger – a stroke of 'electrified crying'. I found the sound during the improv of summing up several sources implemented from SuperCollider UGens, with parameters adjusted:
Gendy1: Dynamic Stochastic Synthesis Generator, invented and described by Iannis Xenakis in Formalized Music. This part of sound created is baby-crying-like, twisted, desperate, with tonal change.
Impulse Generator + Frequency Modulator: This part created is dense and sizzling, like a mouse rushing to a piece of cheese.
Oscillator Bank: implemented by DynKlang. This part created is flowing, airy with heavily oscillating instances.
Aphasia – Don't Speak is the first Variation of Aphsia, this one is produced with Guzheng Improvisation. Guzheng is a traditional Chinese string instrument.
4. Okb-X Saturn RD-57
For Piano, SuperCollider Generated Sounds, Recorded Sample and Female Vocal
This is an electroacoustic piece exploring piano improvisation, alternative vocal and an irony of aesthetic "look-back" of post-communist 'nostalgia' regarding Soviet culture. I was inspired by memories of my 2017 Moscow winter study at Higher School of Economics (Moscow), when during the lecture I was introduced a rather different view to global politics after 2016, frustratedly amazed by how the world had been divided by the war of ideology. One day, a friend who was a spaceship-model enthusiast showed me a website about old Soviet Spacecraft, that's when I saw the name of OKB – X Saturn RD – 57. Everything resonated in 2020, and I decided to write a song: how history ironically repeats itself. Piano performance was recorded real-time for improvisation experiments, on Nord Piano 2, recorded sample of Soviet Spaceship News reportings.
5. Боевой дух, у судьба!
"Fighting Spirit, and the Fate!"
for digital synthesizers and alternative female vocal
This is a song written with the attempt to explore the embedding of Ancient Chinese poetic literacy and experimental electronic composition, which is an expression of confusion regarding the awkward place of modern China-born artist in the global culture. The lyrics was a poem written by a renowned Chinese writer Li Ye from Tang Dynasty, the poem itself was about his frustration – Li Ye was feeling powerless, and incapable of changing anything.
Lyrics:
Poetry from Tang Dynasty BY LI YE
菩萨蛮 登楼遥望秦宫殿
 High up overlooking the Palace of Qin
唐 李晔
Author: Li Ye from Tang Dynasty | translated by Yudan Zou
High up on the tower, overlooking the Palace of Qin*:
Nothing but flying swallows in pairs.
登楼遥望秦宫殿,茫茫只见双飞燕。
The Wei River converges in one,
Mountains and mountains, scatter everywhere.
渭水一条流,千山与万丘。
Distantly, fog over the vividly turquoise trees,
upright passengers crossing the field.
远烟笼碧树,陌上行人去。
But where, are the heroes?
with whom the emperor feel safe and sound?
安得有英雄,迎归大内中。
Qin Dynasty, the first dynasty of imperial China
6. Aphasia – Can't Speak
This is the second Variation of work Aphasia. The background electronic sound is still produced by Real-time generated data input from a 2-dimensional control board in SuperCollider. A recorded sample of Jaw Harp performance by Yudan is used for sonic transformation.
7. Vibration in Space
For Sonic Transformation of Three pieces of Minimalist sonic material
An electroacoustic music composition. Inspiration came from my reading regarding the early history of electronic music-making: the slicing, looping, collaging and re-editing of materials. The sound itself can grow tremendously through methods of manipulation, and with structural planning, new works that are why I developed the intention to explore the possibility of growth of the most minimalist recorded sonic sample.
Design & Concepts
The recorded samples are:
1. "Plucked Yueqin String"
2. "Audible Breath"
3. "Click on Pierrier Soda Can"
Vertically, the materials were assembled in Ableton live, I limited the recording to '3-group, 9- channel'. And synthesized materials will be re-edited, put horizontally in the linear structure of the song.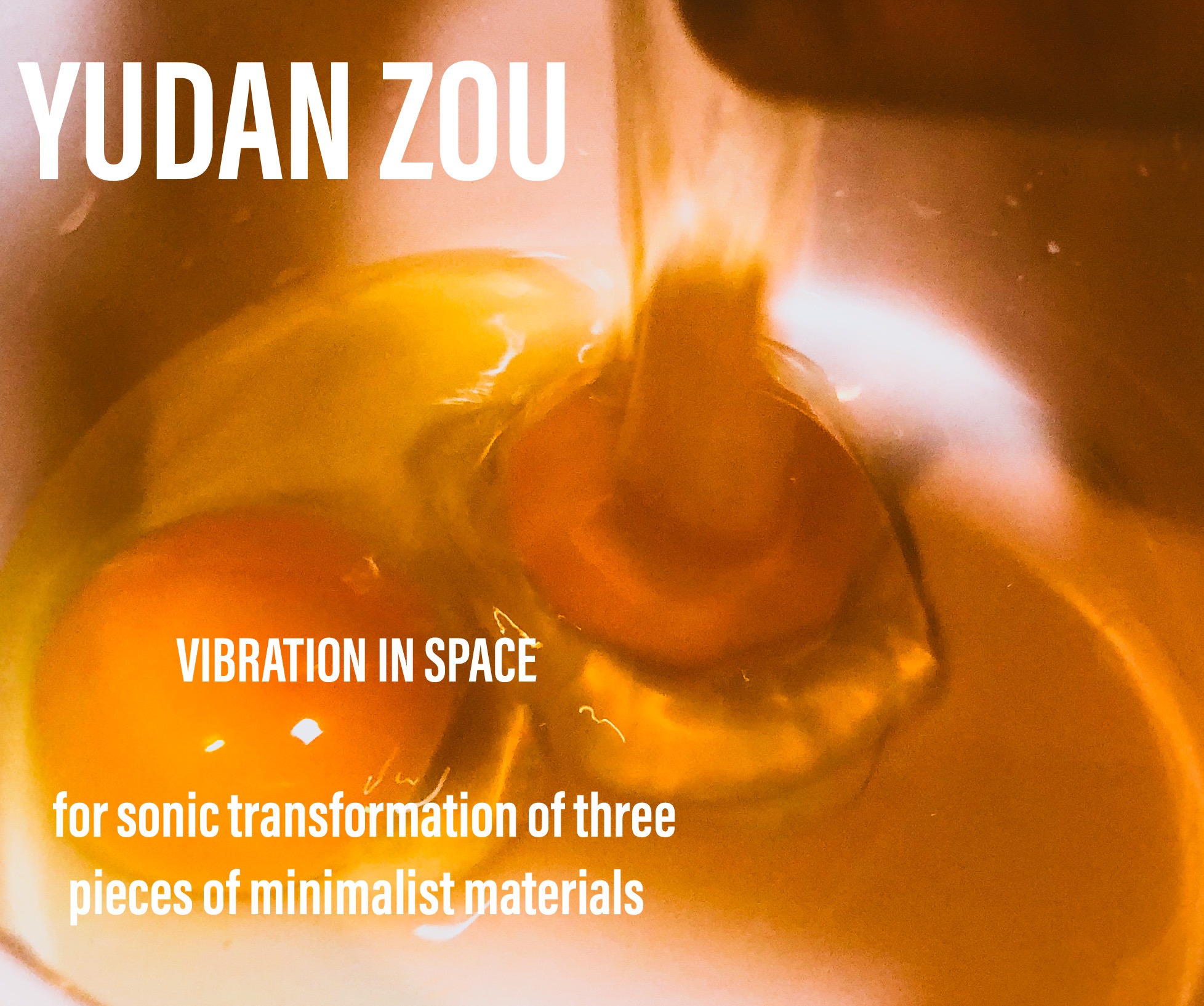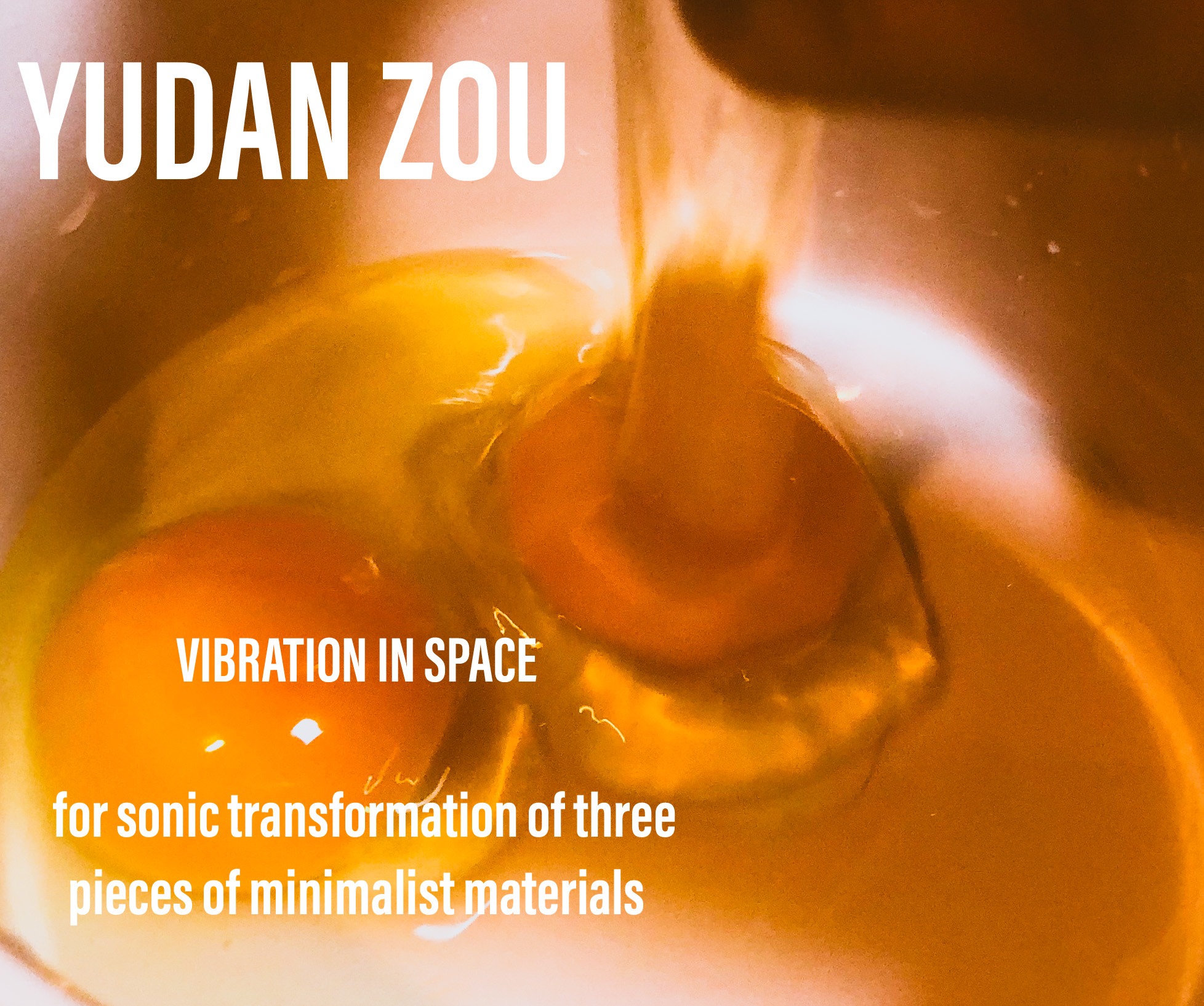 8. Cubism (Variation 1)
For Algorithmic Composition in a SuperCollider Program for 2 SuperCollider Instruments
My title 'Cubism' stems from the observation of the composition techniques Serialism. The piece is performed independently by the SuperCollider program. The pitch material is a set of development from an atonal Serial.
Code is divided into three part:
Part 1: 2 instruments, 'R' & 'A', are first defined using SynthDef, to create sonic landscape
that built the starry, light-sawtooth, slim-Sine flowing ambience in the background.
Part 2: Pitch material of the piece. First I define the time signature with TempoClock.new (170/60), then for each instuments, I use Pbind(…Pseq([Pn…]) for the development of sets of Serial (original Serial is (1,4), 4, 3, 4, 3, 6,5, 6,5). While all will be specified in the full code, the other serial development of scales and sequences are presented below:
Part 3: Structure of the piece, which is ordered in linear manner.
9. Aphasia – Won't Speak
This one is the third variation of work Aphasia, with Voice-Speech (Khoomei, Scat singing, Language-based Phonetic sound) Improvisation. Khoomei performed by Yudan Zou.